Direct feedback with RP3 Monitor
RP3 Rowing did make the decision to provide 'always be connected' when doing the workout. Anyone can use a smartphone or tablet with the RP3 App (iOS or Andriod) as rowing monitor.
The data is key to get the experience and improve your strokes to become a better rower!
Login with your RP3 account in the app to get every workout automatically uploaded into the RP3 Portal after the training, even if you finish earlier. You can manage your workouts and history on the portal, next to doing your reporting and analysis.
The Power Curve
Key function of rowing the RP3 is the Power Curve. The RP3 models are engineered to simulate the rowing movement as close as possible and sensor technology is doing the measurements.
The Power Curve is the real time visualisation of your stroke providing a curve that represents the accelaration of the flywheel. So it represents your force in your rowing stroke, simular to the stroke in the boat.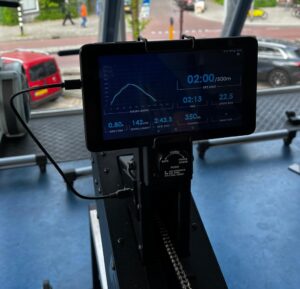 See the power curve on the left, blue 'moving' line: your actual stroke, yellow: shadow (lastest) or target stroke (based on settings). Y-axis: force (N), X-axis: length (cm)
The Metrics
The other (right) part of the screen is used for metrics and numbers.
The iOS app on iPhone provides a selection of three positions on the right of the screen. The standard are:
1. RP3-Split
2. Time
3. Stroke Rate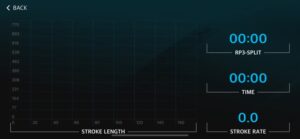 These could be changed / replaced by a number of other data-fields: Power, Average Power, Stroke Length, Average Split, Distance, Distance per Stroke, Energy per Stroke, Total Energy, Calories Sum, Heartrate, Average Energy per Stroke, Peak Force, Peak Force Position, Relative Peak Force Position, Drive Time, Recover Time, Stroke Time, DR ratio, Speed, K (flywheel resistance or drag factor).
Andriod Tablet Monitor
The tablet option provides more data fields to select. Next to the large "Power Curve" section on the left and the "RP3 Split" on the right (which is also flexible to change), there are 7 fields to select.